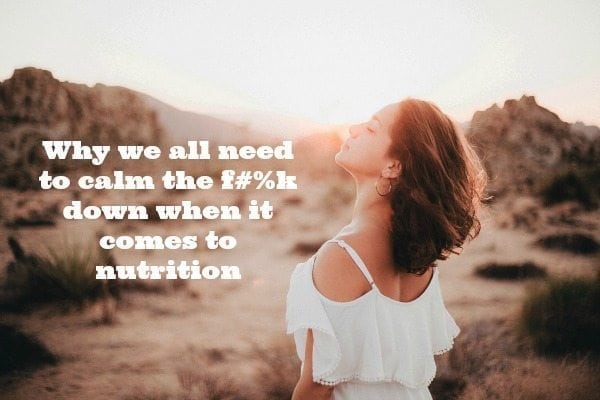 I was chatting with my dietitian friend the other day and she said something wonderful.
"We all just need to calm the f$&k down when it comes to nutrition."
She is so very right. Somehow, nutrition and health has turned into this frightening, bombarding world of conflicting information. 'Don't eat this because that will happen, the food industry is killing you, 10 foods that will give you cancer.'
I once put a picture on our Facebook page page of our trolley of which contained a stack of healthy foods. I had a reader slam me with with disgust and hate, questioning why I would be buying grated cheese. 'Surely you should know as a nutritionist that you shouldn't eat pre-grated cheese because of the preservatives. How can you call yourself a nutritionist when you eat something from a packet?!'
Give me a break. Am I going to die because of the anti caking agent in a bag of cheese that I purchase once every 6 months? No. Most often the anti-caking agent' is simply tapioca flour. Which is…a vegetable. Natural and harmless.
Is your child going to develop cancer because you were terribly exhausted and sent her to school with money to buy a ham and cheese sandwich on white bread for the second time that year? No.
Are children going to grow up being so sick and tired of being told that they aren't allowed gluten, dairy or soy in their house because it is 'toxic' *** that they are going to pig out on McDonalds the moment they are with their friends at the shopping mall? You betcha. I see it all the time.
*Doesn't apply to legitimate food allergies
Are women writing to me feeling like absolutele failures because they haven't managed to drink their green smoothie each morning, or make their own nut milk? You betcha.
Do overweight people confide in me that they feel the initial step to become healthy and eat nutritiously is just all too hard because they honestly can't afford the fancy ingredients and superfoods that they read on social media 'must go into your smoothie?' You betcha.
Are mothers freaaaaaaking out because another mother told them that they stopped giving their child gluten, dairy, preservatives and blah blah and now their child is an angel. And now, they're wondering if their perfectly well behaved child should be more well behaved and whether eliminating these foods might make them even more perfect angels? You betcha.
Mothers are feeling confused, out of control, guilty and like a failure all because they used tinned tomatoes in the spaghetti bolognese  last night, and then they saw a graphic on Facebook   that the BPA in the tin will cause cancer (which it doesn't).
Twenty year old Sarah feels like a health failure because her bowl of nutritious oats in the morning contains only a banana, not the fancy pants expensive goji berries, macca powder, cacao nibs and acai powder.
All of a sudden it seems that eating fruit and vegetables and eating nutritiously 80% of the time just isn't good enough, like it's too basic.
Well that's WRONG.
The rise of this obsession with healthy and 'clean eating' has given way to a new disorder called orthorexia – an unhealthy obsession with being eating healthily.  Myself and many other health professionals consider this as much of an issue as the worldwide obesity epidemic. Read more here 
So lets chill out with this whole nutrition stuff. Let's eat fresh, wholesome food as much as we can. Let's make every effort to make our own food instead of buying pre-packaged. Let's try and eat loads of delicious fruit and vegetables, eggs, legumes, lean protein, wholemeal sources of carbohydrate.  
Do your nutritional best every day and have some fun along the way. 
Say 'stuff you' to the people who scare you into being a nutrition perfectionist and making you feel you are never healthy enough. They sound clever but they lack insight, compassion and knowledge. 99% of the time, they have no qualification in nutrition. Trust the experts who know a great deal, and give a damn. 
Disclaimer: The Nutrition Guru is NOT against green smoothies or making your own nut milk. Nor is she pro preservatives. However, she doesn't agree with current nutrition messages negatively impacting one's mental health. The Nutrition Guru also advises that this article is not validating your desire to eat whatever you want, particularly if you currently have an unhealthy diet. Rather, highlighting the philosophy of 'everything in moderation' and encouraging readers to try their best to be healthy and happy.

  A university qualified Nutritionist, the Nutrition Guru enjoys busting diet myths and showing people simple and effective ways to live a healthy and happy life by eating whole foods without the need for restrictive diets.