Delicious Chai on a winters night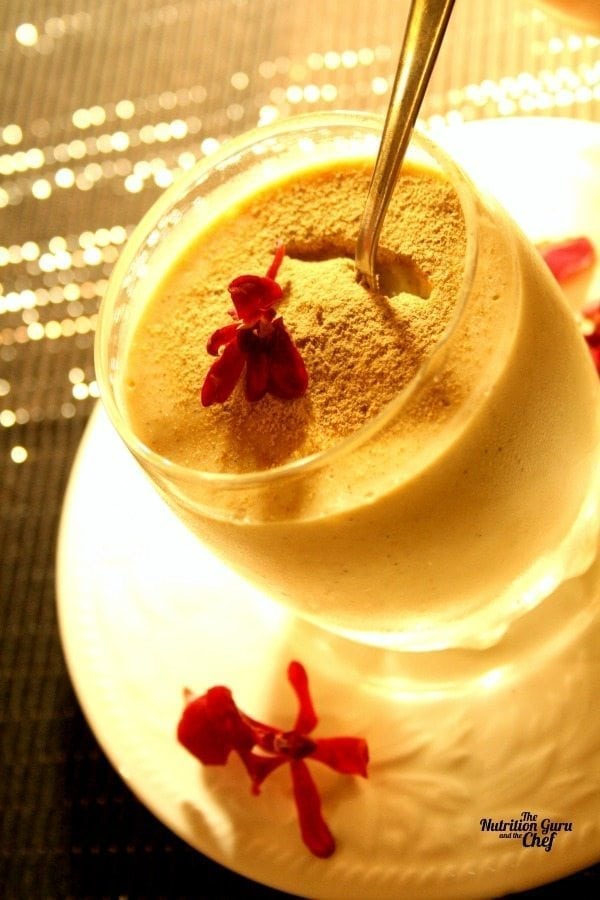 This recipe is so versatile as it can be served warm or cold. Serve warm with a runny custard like texture (perfect on a cold winters night) or, chill in the fridge to thicken and set.
This isn't one of our low fat low sugar recipes but that's ok because we all need a treat every now and then. We believe in: EVERYTHING IN MODERATION and that no food is labelled as 'good' or 'bad', rather it is how often you eat high fat foods for example. This is the perfect little treat for a dinner party or for a loved one on a special occasion!
Chai
The chai flavour is optional and you can simply substitute with equal quantities of nutmef or cinnamon or a mixture of both.
We have used chai powder here which you can find in some specialty stores.  Or, you can purchase loose leaf chai tea, and grind your own in an electronic coffee grinder or a pepper grinder and grind. Another way you can do it, is to place chai tea bags into the mixture whilst it is on the stove and let the tea infuse (remove before serving).
Recipe
Serves 4
500ml Cream
500ml Milk
3 tbsp plain flour (or cornflour)
3 tbsp honey
3 tbsp chai powder (Optional. This comes down to personal taste. Add more or less if you wish)
250 grams chopped white chocolate
1 vanilla bean, or 2 tsp of vanilla extract
Method: Whisk Whisk Whisk!
Place flour into saucepan on medium heat.
Pour 1/2 cup milk onto the flour and whisk to combine. The flour should absorb some of the milk and  eventually turn into a paste. You will need to keep stirring as the mixture will be lumpy. The goal is to keep stirring to remove all lumps.
Once lumps have dissolved add the rest of the milk and add the cream into the pan over the top of the flour  and whisk together.
Keep whisking and bring to the boil. (You may need to increase the heat of the stove).
Whisk in the chopped chocolate and chai powder.
Slit the vanilla bean and with the knife scrape the seeds from the bean and add to mixture. Add pod to mixture also. If using vanilla extract instead of vanilla bean, add this now.
Leave on a gentle boil for 5 mins, constantly stirring to prevent the mixture from burning and ensuring a smooth consistency. This step is to thicken the mixture.
Turn heat down to low.
Continue to whisk mixture for 5 mins or until it starts to thicken and go silky smooth. There should be no lumps!
Remove vanilla bean.
Serve hot for a devilish treat on a cold night.
Or, place in fridge and mixture will thicken and set.
Enjoy!
Related articles