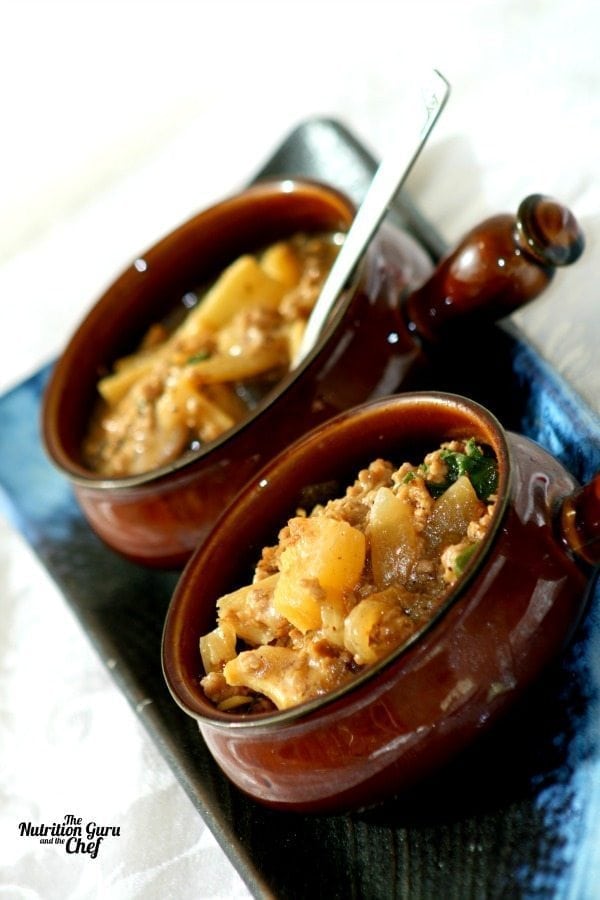 We love a warming curry, and I find that the yellow curry is sweeter and not as hot.
This recipe uses Evaporated Milk – coconut flavoured (available from all supermarkets) to replace the coconut milk. This significantly reduces the fat content of the dish. However, if this isn't a concern for you, feel free to use coconut milk.
To make the recipe suitable for vegetarians, instead of pork mince stir through a can of cooked chick peas or lentils as the last step.
Ingredients
1 tbsp yellow curry paste* (more or less depending upon taste. If you don't like spicy, start out with a little bit of paste and add as you cook, tasting as you go).

500g Pork mince (you could also use chicken or turkey mince)

 1 0nion chopped finely
1 tin (225g) bamboo shoots drained (available from all supermarkets).
½ of a 440 g tin of diced pineapple segments + ½ of the juice
2 tsp fish sauce
1 cup evaporated milk – coconut flavoured  (this is to make the recipe low in fat, you could also use coconut milk if you wish)
2 tbsp Massel vegetable (or chicken) stock powder, or 1 stock cube.
2 tbsp arrowroot powder (or you can also use cornflour)
 1 bunch bok choy (or any green leafy vegetable such as spinach, cabbage)
Method
1. Chop onion finely and sweat in a pan with oil on high heat
2. When brown, add yellow curry paste and fry until it releases the aromas
3. Add pork mince and fry until brown adding a dash of water if it starts to burn
4. Add pineapple juice (from tinned pineapple)
5. Add bamboo shoots
6. Add fish sauce
7. Add Vegetable stock powder and stir through
8. Add Evaporated Coconut Flavoured milk
9. Sprinkle arrowroot powder through the mixture and quickly stir to combine thoroughly. This is used to thicken mixture.
10. Turn heat down to medium and stir all ingredients thoroughly and let thicken. Do not let it burn. If mixture becomes too thick, simply add a dash of water
11. Add chopped Bok Choy and continue cooking until vegetable is wilted.
12. Serve with rice or noodles.