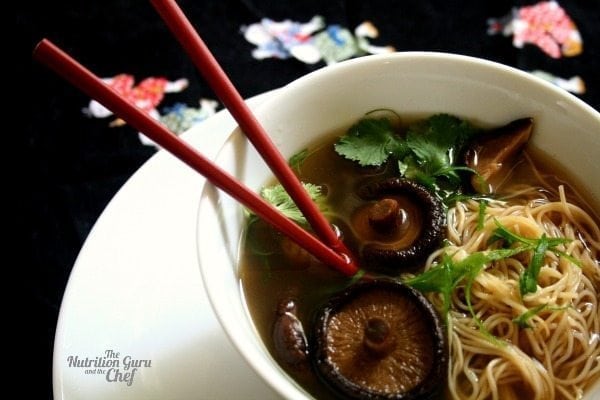 I love Asian soups, even when I was a child I enjoyed trying all the noodle soups at our local Chinese restaurant. Well, my love affair with these light and healthy soups continues, and I would eat a noodle soup at least every day for either breakfast, lunch or dinner. Here I will show you the nutritional benefits of my favourite Shiitake and Ginger broth, provide you with a very simple recipe, and also fill you in on some of the concoctions you might want to experiment with.
Shiitake Mushrooms have long been a symbol of longevity and used widely in chinese medicine and cuisine. High in iron, six different minerals, Vitamins B2 B3 B5 and B6, they are also a good source of protein and fibre. Research shows that they may strengthen the immune system, protect the heart and possibly prevent cancer.
The are also high in naturally occurring MSG which gives them the 'Umami' flavour. Umami is one of the six flavours found in food and one which our brain naturally seeks out and craves. In Japanese, it translates to ;savoury deliciousness' which is the most fabulous phrase because it is exactly what shiitake taste  like.
So what better way to eat shiitake mushrooms, that to make a healthful tasty broth. The recipe also contains garlic and ginger which also have fabulous health benefits.
Ginger: Has been used traditionally to soothe digestive complaints, stimulate digestion and reduce nausea. There is some research suggesting that it may hold the ability to prevent cancer and boost the immune system.
Garlic: Anti-inflammatory, anti-microbial and anti-oxidant benefits.
To Make the Broth
Ingredients
12 whole dried washed shiitake mushrooms – available from all major supermarkets in the asian section
1 large knob ginger (approximately 20 cm x 2 cm) peeled and chopped into thumb-sized pieces.
4 cloves whole peeled garlic
3 spring onions (roots removed) chopped into 10 cm segments
3 litres chicken/vegetable stock or water
2 tbsp soy sauce or tamari
Method
It's as simple as throwing it all in a large saucepan.
Bring to the boil
When soup has reached the boil, drop the heat back to medium
Boil with the lid on for 3 minutes or until shiitake mushrooms are soft yet still have slight firmness to them.
You can strain the soup, or eat as is. I like to remove the shiitake mushrooms, slice and then add back into the pot.
This can be served as a soup on its own, or it can be frozen and will store very easily. It can also be used as a stock for poaching chicken, making risotto's or stir frying meat.
To Make the Dish
Cook your choice of noodles, drain and set aside. A good source of carbohydrates for energy, and low in fat (look for a noodle with less than 2 grams of fat per 100 grams).
Lay noodles in the bottom of a bowl, ladle hot soup over the top.
Garnish with thinly sliced spring onion
Variations
Add sliced roasted meat from the night before, or poach your choice of meat in the hot broth until cooked through.
Add bean sprouts, or any cooked vegetables you wish. Stir through spinach leaves just prior to serving, or cooked broccoli
Top with fresh herbs such as coriander or Vietnamese mint
Top with a boiled egg, sliced in half to increase your protein intake
See our other recipes under 'savoury dishes' for which you could substitute chicken stock, for this delicious shiitake broth.
The possibilities really are endless and that's the magic of this very simple dish.