A deliciously moist cake, you wouldn't even know that it is vegan. It is free from eggs, butter, milk and is gluten free.
We also have a non-vegan version here 
The recipe for our VEGAN CHOCOLATE SWEET POTATO CAKE is very versatile in that you can either make one large cake or small individual cakes.
The ganache used to top the cake oozes chocolate deliciousness and we often whip up a double batch and keep some in the fridge for a couple of days for on pancakes and sometimes on toast for a special treat.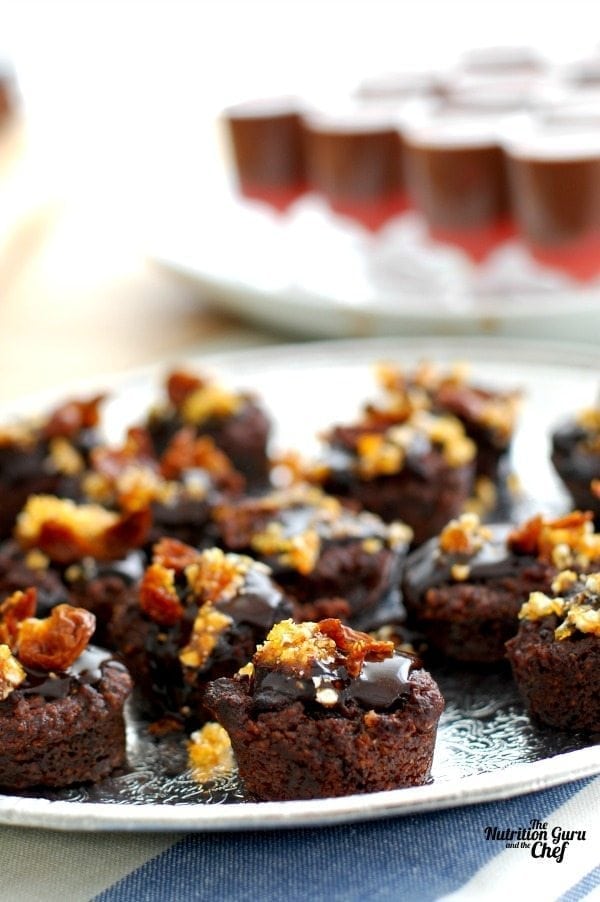 Vegan Chocolate Sweet Potato Cakes
Author:
Prep time:
Total time:
These are so fudgy and delicious, you wouldn't even know they are vegan
Ingredients
FOR THE CAKE
300 grams cooked sweet potato (see method below for how to prepare)
3 tablespoons of chia seeds
6 tablespoons of water
300 grams coconut sugar, rapidura sugar or brown sugar (Remember, they are STILL a sugar!)
240 ml olive or sunflower oil
1 teaspoon vanilla extract (or 1tbsp vanilla essence)
50 grams cocoa powder
200 grams almond meal
1 1/2 teaspoon baking powder (or gluten free baking powder)
1/4 teaspoon salt
3 teaspoons cinnamon or chai powder
FOR THE CHOCOLATE GANACHE
1 cup cocoa powder
1 cup water
8 tbsp coconut or rapidura sugar
4 tbsp olive or sunflower oil
Instructions
Preheat the oven to 180 degrees celsius
Soak 3 tablespoons of chia seeds in 6 tablespoons of water to create a chia gel. The chia will absorb the water and turn a gel like consistency
To cook the sweet potato, wash thoroughly, peel, towel dry.
Place whole on a lightly oiled baking tray and bake for approximately 30 minutes until soft when poked with a knife.
When cooked, let cool on a wire rack.
When cool, make a cut in the potato along the length and scoop out the flesh.
Discard the skin.
Blend or mash the potatoes until slightly smooth but still some 'chunks' remaining.
In a bowl, whisk together the sugar and oil.
Slowly add the cooked potato, the chia gel and vanilla
Beat until just combined. Don't over work it.
Add the cocoa, almond meal, baking soda and salt to the wet ingredients.
Fold the ingredients until everything is just combined. Don't over mix the batter.
Line a 10 inch cake pan with grease proof baking paper. Alternatively you can use a muffin pan or patty cake papers to make smaller cakes such as those pictured.
Pour the cake batter into the prepared cake tin.
Bake for approximately 45 minutes for muffin style cakes and approximately 1 hour 15 minutes if using the 10 inch cake pan. .
Cake is ready when a tooth pick or skewer inserted in the middle of the cake comes out clean. Baking time may vary depending on the pan and oven you are using.
Insert a skewer into the centre of the cakes to test if they are cooked. The skewer will come out slightly wet and will not be completely dry. If you are worried that the cake is under cooked, continue to cook, checking in 10 minute intervals.
Remove from oven and leave to cool in the pan.
The cake/cakes are best eaten after being refrigerated which 'sets' the cake
The cake will be very moist.
To make the ganache: Place all ingredients except the oil in a small saucepan on high heat, stirring to combine.
Let mixture bubble for 5 minutes, stirring to keep it from sticking to the bottom of the pan.
Mixture will start to thicken.
Addoil and stir vigorously to incorporate oil into the chocolate mixture.
Remove from the heat and allow to cool before using it to top the cake.
The ganache will also set well in the fridge similar to an icing or frosting and if covered will store in the fridge for 3-4 days