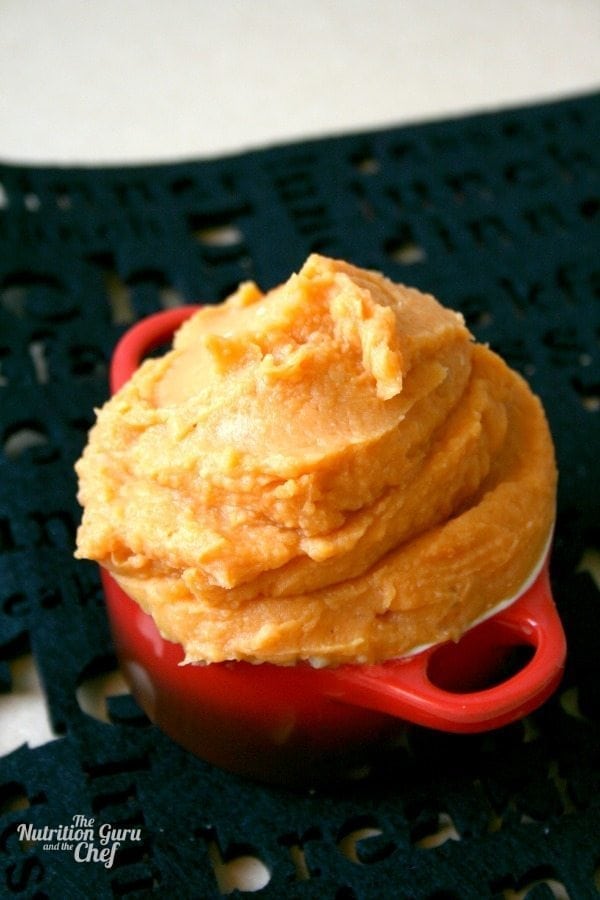 This Sweet Potato and Butter Bean Mash is a recipe I cook often. A perfect side with dinner and fantastic puree for babies (just leave out the onion).
Contrary to popular belief, carbs aren't the bad guy. It's the refined white carbohydrates (such as cakes, biscuits, crackers, white bread) and TOO MUCH carbohydrate at one time that is the problem, not the carbs themselves. Instead, choose healthy carbohydrates such as sweet potato, lentils, beans, fruit, vegetables, wholegrain pasta and noodles, buckwheat, millet, quinoa and barely.
Carbohydrates are essential for providing our body with energy, particularly our brain. Did you know that the only fuel the brain uses is carbohydrates, not fat or protein? That's why we can't think straight, we forget things and become moody when we experiment with carb free diets. It's like running a car without petrol and wondering why it won't drive us to where we need to go.
Carbohydrates are also essential for a strong immune system, and with Winter on the way, it's important to start boosting that now by consuming the healthy forms of carbohydrate with each meal.
This mash uses the deliciousness of sweet potato which is a low GI vegetable,  packed full of fibre and the antioxidant Vitamin A. To give the mash body and an extra nutritional punch, butter beans are used. These are available in the can from all supermarkets and contain fibre, slow release carbohydrates and protein.
Make a Soup
Tip: Make a double batch and put half in the fridge. Tomorrow night place this extra back in a saucepan with 2 cups of chicken or vegetable stock and there you have a delicious soup and you haven't had to cook!
Puree for Babies
This is an easy nutritious puree for babies and saves you time in the kitchen because you can eat it too! Just leave out the onion to avoid tummy upsets.
Recipe Sweet Potato and Butter Bean Mash
Author:
Prep time:
Cook time:
Total time:
Super easy and packed full of nutrition, this mash is one the whole family will enjoy
Ingredients
1 medium sweet potato
1 medium onion
3 garlic cloves
1 can butter beans
3 tablespoons olive oil
1/2 teaspoon salt
Instructions
Peel the sweet potato and chop into pieces
Peel the onion and garlic. Chop the bottom off the onion
Place the sweet potato, onion and garlic into a large pot
Cover with water, making sure the ingredients are completely submerged
Cover with a lid and turn the heat to high. Bring to the boil
Remove the lid and continue to boil for approximately 20 minutes or until you can poke the sweet potato with a knife and it feels soft.
Drain the water from the pan
Open the tin of butter beans, drain the thick liquid and wash the beans thoroughly with running water
Add the butter beans to the pan with the olive oil and salt
Throw all ingredients into a blender or use a stick blender to blend until smooth.
If the mixture is too dry and difficult to blend, add a dollop of butter, cream or a splash of vegetable or chicken stock
Blend until smooth and serve with cracked pepper
Use any left-over mash to create a soup (see above)