Ever felt inadequate after flicking through Facebook or Instagram? Felt that your under eye circles were too dark whilst everyone else that you follow on Insta has a sparkling radiant complexion? Feel that your bowl of oats with milk for breakfast is not up to scratch with the 10 breakfast jars (yes always in jars) you saw posted this morning drowned in superfoods? Welcome to the unrealistic world of social media.
I am a total social media addict. I love the way it inspires us in many areas of life and the way it allows  us to take a sneak peek into a total stranger's lifestyle without having to leave our home (does that sounds creepy?) I love the way it lets us connect and I have made many new friendships via social media, with some I now call my closest buddies.
But along with these positives lies a bigger issue.
The perfect life that social media portrays. 
No-one posts their boring, unflattering shots. The ones where you can see that bit of cellulite on our leg, or small wrinkle lines when we smile. Sure, those shots are on our camera roll, but they don't get posted. Our social media life is a version of our self that we wish to portray and we control what that version is. We use filters to give our skin that brighter complexion or crop the photo just above our hips so that people can't see that sneaky cellulite. And we have a camera roll full of shots we are unhappy with.
And then there's the snap shots of life that don't even get a chance to be photographed.The health accounts don't post their toast with vegemite shots, because that would negatively alter your perception of them..even though it's what they are actually eating! We don't take a  'this is my geez I just feel like crap today' selfie, but we do take and post our 'I just went for 7km run on the beach followed by lunch with friends and life is good' face.
I'm guilty of it. When I was pregnant I posted the glowing baby bump happy shots, never the shots where I was grey from throwing up all morning and the hormonal driven pimples were right there red and all over my face.
So, I'm baring all. I'm showing you the reality shots from my camera roll. On the left, the pics that weren't posted and on the right, the pics that were.
When you have finished, would love to hear from you via the comments section below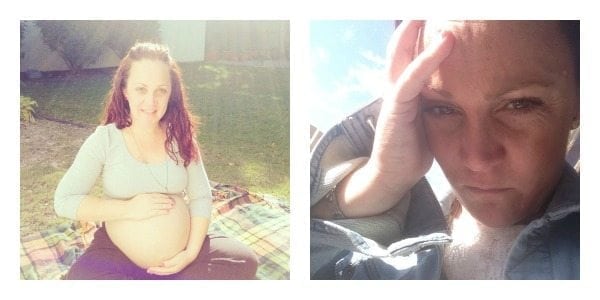 Left:  Glowing bump shot radiating happiness with sun rays, green grass and a smile
Right: Dark circles, eye wrinkles and wearing my cranky pants because I felt terribly ill and emotional
—–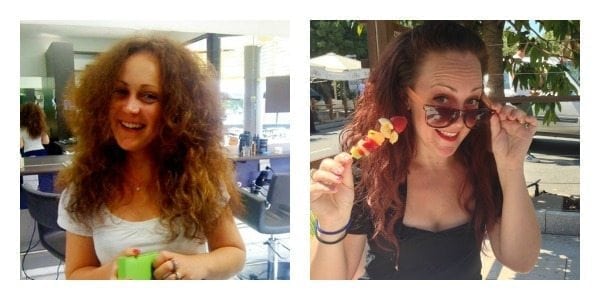 Left: This is what my hair looks like naturally without product
Right: It has taken 15 minutes of rubbing coconut oil through my hair to get it to the stage where I can leave the house (or post a photo on social media)
—–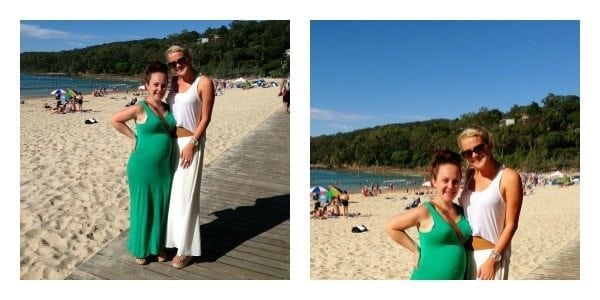 Left: Photo taken with my friend that didn't make it onto social media as I felt uncomfortable with my growing backside and thighs due to pregnancy
Right: Cropped photo minus the growing backside and thighs giving the illusion of lovely long slender legs below
—–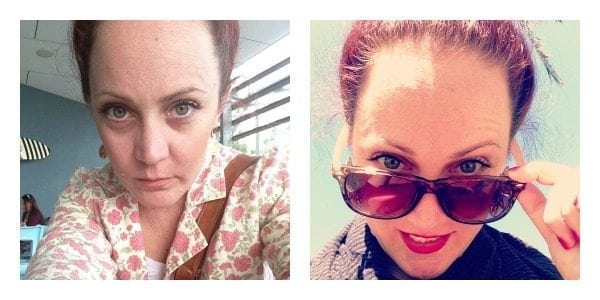 Left: Selfie complete with dark circles and washed out face
Right: Selfie with filter plus the added bonus of Queensland sunshine. Notice glasses placed over dark eye circles and the addition of a smile. I believe the caption was 'Today is a great day!' because it was.
—–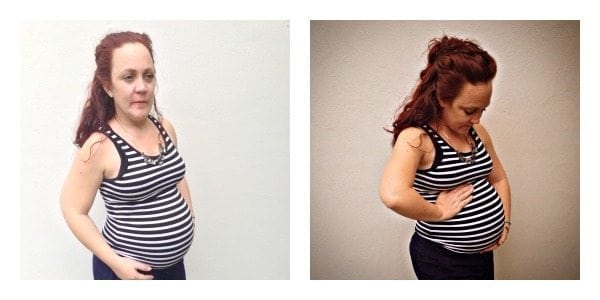 Left: My normal pregnant face with added weight under the chin, dark circles, pale skin
Right: The lovely shot minus the weird top lip, dark circles or pregnancy chin and the added effects of a filter making skin browner
—–
I tell my clients  that following health people on social media can be hugely inspiring and motivating. If it makes you reach for the banana isntead of the chocolate then that's wonderful, but it can also turn on its ugly head and be frighteningly damaging.
I see many people feel that they are 'unhealthy' or 'not healthy enough' because they are not drinking their green smoothie with bee pollen every morning (search the #greensmoothie on Instagram and you will see what I mean.) Or that they are not healthy if they are not doing a 5km run then taking their sweaty selfie,. That their 1 hour morning walk and their chicken salad without special superfoods on top is not enough because of this obsession with healthy socialites. And that is a huge shame. 
So I encourage you to go through your social media accounts and unfollow any accounts which leave you with a feeling of unworthiness, negativatity or self doubt.
Find out what happened when I did so here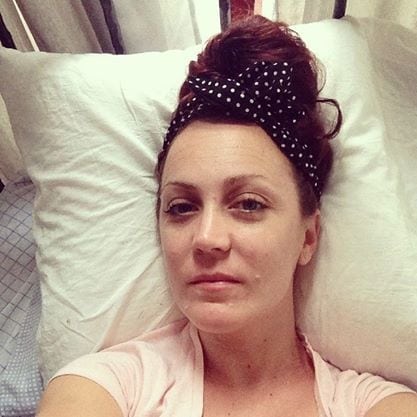 Follow us on Instagram!