Being a new parent, it's hard to find the time to take care of yourself. With the endless washing, sleepless nights, and floor covered in broccoli, this is an important time where you need regular healthy food for optimum energy and mental alertness.
You can ensure both you and bub are looked after by cooking foods that both of you can enjoy, making extra-large batches to be used across several different meals. I wouldn't get through the week if I had to make separate meals for Lucy-Belle and I.
Cook as much as you can of everything you cook. Package it up in the fridge, freeze some. It takes just as long to cook a triple batch as it does to cook a single batch.
You might want to read "When and How to Introduce Solids' here and find out when you can feed your baby allergenic foods such as eggs and nuts here.
Below is a list of healthy foods that you may want to try with your new little eating monster. Just alter the following them to suit their stage of development and texture requirements. Puree, chunky, whole, chopped…you choose!
Sweet Potato or Pumpkin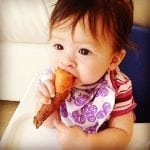 Baking veggies such as pumpkin or sweet potato brings out the natural sweetness, which is delicious!
Remove the skin and chop into pieces.  Bake in a 180 degree oven on a tray lined with baking paper for 20-30 minutes. As with all baby foods, there is no need to add salt or oil.
For baby: Blended on its own or mix with rice/oat cereal for a little iron (read my article here to find out the pros and cons of rice cereal)  or left-over cooked brown or basmati rice from your dinner the night before.
It's also great as finger foods (depending on stage of development.)
For you: Toss through your salad  and sprinkle with parmesan cheese, or serve as a side dish for your dinner. Also perfectas-is for a quick snack.
Steak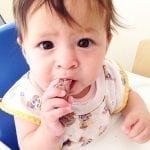 For baby: Large pieces of cooked steak are great finger foods to experiment and develop their fine motor skills. Monitor very closely, particularly when baby has teeth (as they can rip large chunks off which may pose a choking risk if you are not nearby).
The steak can also be pureed and added to any left-over pumpkin puree. For older babies, chop into pieces for finger foods or combine with chopped baked pumpkin.
For you: Serve for dinner with baked sweet potato or pumpkin and other vegetables. Serve left-over steak cold the next day, sliced thinly on top of a salad for lunch.
Avocado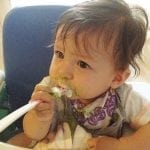 For baby: This was Lucy-Belle's first food, perfect for its smooth creamy texture and packed full of healthy fats. Serve on its own, or mixed with pureed pumpkin or sweet potato.
For you: Avocado on toast makes the perfect snack or tossed through a salad for a good dose of healthy fats and energy.
Poached fruit
Simply chop fruit such as pear, apricots, peaches or apples and cook in a saucepan with a splash of water on low heat until fruit is softened.
For baby:
Puree the fruit for younger babies if you wish or leave as is, according to developmental stage. Serve on its own, mixed through cooked oats, rice, or even with meat.
For you:  Add to your porridge for breakfast and it makes a delicious dessert served with yoghurt. Great for those who are breast feeding.
Porridge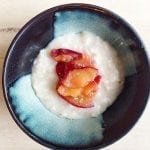 Make a large batch (no sugar or honey added) for you and baby to enjoy. Make it using cow's milk, water, or expressed breast milk (Cow's milk is ok from 6 months of age). Porridge is a wonderfully nutritious food for mothers as well as babies as it contains fibre and a good source of carbohydrate for energy. Oats help boost milk supply, making it perfect for breastfeeding mothers. It keeps well in the fridge for a couple of days, making it the perfect food for time-poor parents.
For baby: You may wish to puree the porridge or serve as is, depending on stage of development. Add some of the poached fruit you have prepared earlier. It can be blended with other fruits or vegetables.
For you: To fuel your busy day ahead serve warm with your choice of milk, crushed nuts such as macadamia or walnuts, honey or maple syrup, sunflower seeds and a little natural yoghurt. I always make up a huge batch to last 2 or 3 days as breakfast and/or snacks for both of us.
Banana
For baby: Great as finger foods, or you can mash it and mix with rice/oat cereal. Read about my opinion of rice cereal here. Chopped banana thrown in the porridge during the last few minutes of cooking, with a tablespoon of natural peanut butter, is a nutritious breakfast for you and bub.
For you: The perfect portable snack full of vitamin B for energy. Throw them into a smoothie with your choice of milk and a little honey, or on top of your porridge
Egg yolk
Introduce egg yolk first as this does not contain the common allergic protein.
When can you introduce eggs and other allergenic foods? Read more here 
Once you have determined baby is ok with yolk, you can move on to whole egg and egg whites. Cook egg yolk well (never serve runny due to the risk of salmonella poisoning) and mash through fruit or veggies, meats and other dishes your baby enjoys.
Fish
A great source of protein, some iron and is a good texture for little ones.  Fatty fish such as tuna and salmon contain essential fatty acids which are crucial for the development of your little one's brain.
Make sure you cook it all the way through (not raw) and remove all bones. Tinned boneless salmon is a great option.
Yoghurt
See allergy advice in my article here . Natural yoghurt is packed full of calcium and protein, essential for growing bodies.  It is also a fabulous source of good bacteria for a healthy digestive system which can help build strong immunity. Babies born via caesarean section miss the opportunity to get their vital dose of good bacteria via the birth canal, so yoghurt can be very beneficial for these babies in boosting their immune system and gut health.
Look for a natural yoghurt which will contain fewer hidden nasties and more good bacteria. Many of the yoghurts you see in the supermarket are more like desserts, so it's important to read the ingredients lists.
Avoid yoghurts with added sugar in the ingredients list
Avoid yoghurts sweetened with honey (until the age of 12 months), due to the risk of botulism
Try Barambah Organics or Jaalna, available from supermarkets
Milk
See allergy advice in my article here . Milk can be introduced to your cooking from 4-6 months of age but not served as a drink. This is because children may start to prefer cow's milk to their formula or breast milk, which offer baby much more nutrition than cow's milk before the age of 1.
You can use milk in cooking to poach fish, create a sauce for veggies, baked goods or custards.