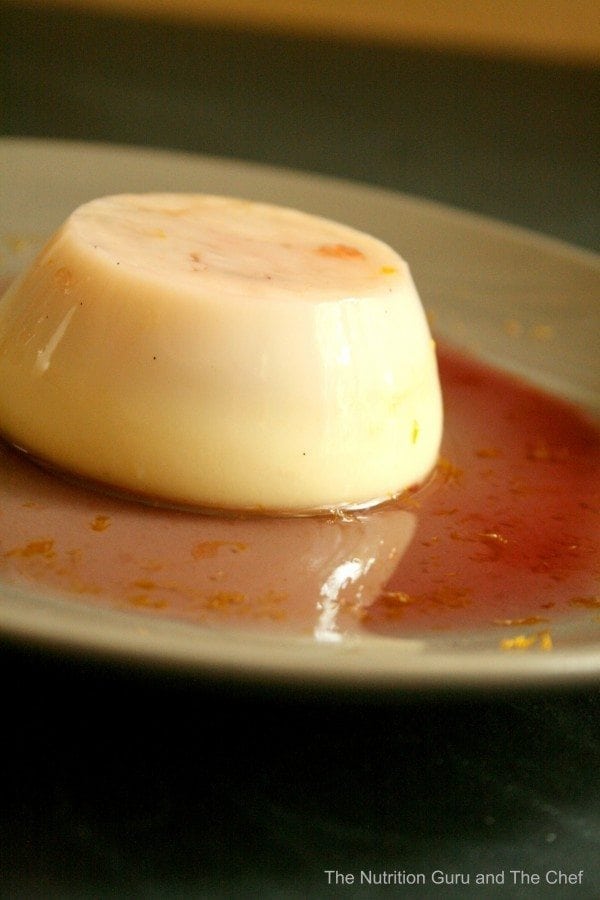 Want a dessert that tastes delightful AND is easy to make? Look no further. This uses ingredients that  most people always have on hand, and literally takes 5 minutes to make. It does take time to set in the fridge, but it's definately worth the wait.
Such a great recipe to make the day before a party to save you time in the kitchen. Whip these babies out and all your guests will oooh and ahhhh and think you've gone to a lot of trouble to make a fancy dessert. But shhhhh, don't tell them how delightfully simple it was to make!
There are a couple of steps in the methods to keep your eye on, but there is definately no tricks, fancy ingredients, or difficult techniques required for this recipe.
Best of all, it is just so versatile. Once you have made this basic recipe I'm sure you will get your Panna Cotta boots on and start to get snazzy. After the recipe, I'll give you a list of all the variations I usually use.
Photographs and recipe by: The Nutrition Guru
Panna Cotta Recipe
Ingredients
1 cup milk
1 cup cream (not whipping cream as this contains gelatine)
1/4 cup sugar or honey
1 tsp vanilla essence/paste or seeds from 1 vanilla pod (optional)
1 1/4 teaspoons powdered gelatine  (measure this very accurately)
100 ml warm water
Method
In a cup, sprinkle the gelatine over 100 ml of warm water.
Let the gelatine soak into the water for 5 mins.
In the meantime, bring cream, milk and sugar/honey to the boil in a saucepan on medium heat.
Once the mixture reaches the boil, quickly remove the pan from the heat.
Using a spoon, stir the gelatine and water mixture. The gelatine will have absorbed all the water and have become a paste. Stir to combine.
Spoon the gelatine mixture into the hot cream and milk, and with a whisk quickly whisk the mixture to dissolve the gelatine. It is important to whisk and work quickly here to stop the gelatine from clumping together.
Return the pan to the  heat and continue to whisk for approximately 2 minutes to ensure the gelatine dissolves.
If you are adding any other flavours, this is where you would do so.
Leave the mixture to cool completely.
When cool, pour into 4 individial dariole moulds or any vessel you wish to serve them in. It always looks stunning simply served in water glasses
Cover each with cling film to prevent the top hardening.
Place in refrigerator overnight or for at least 3 hours.
When ready, place the panna cotta on the kitchen bench and run a non serrated knife around the rim. Place a a serving plate on top and then quickly flip over to sit back on the bench. Lift off the mould and there you have a delighful pannacotta. If you wish to simply serve in water glasses, there is no need to turn the panna cotta out.
To serve, drizzle with syrup (recipe below).
Orange Syrup Recipe
Ingredients
1 cup orange juice (we used blood oranges)
2 cups caster sugar
1 cup water
Method
Place all ingredients in a saucepan without a lid.
Boil for approximately 30 minutes until mixture becomes thick and syrup like.
Refridgerate before serving.
Pour on top of pannacotta to serve.
Variations to pannacotta recipe
Flavours
Add 2 teaspoon of instant coffee to the mixture
Add 1/2 teaspoon cinnamon
Replace sugar with maple syrup
Add 2 teaspoons of chai powder
Ingredients
For a dairy free alternative, simply replace the milk/cream with equal quantities of coconut milk, rice, soy, oat or almond milk. We often make the pannacotta with these milk's and it is delicious!
For a healthy lower kilojoule option, omitt the cream and simply use milk and half the sugar/honey. Made this way, this is in fact a healthy dessert option
If you wish to replace processed white sugar, use Rapidura sugar, Natvia, Stevia or Xylitol
Replace cream and milk with equal quantities of plain yoghurt. I often make it this way and we eat it with fruit salad for breakfast. Delicious and light and a great way to get a hit of dairy and fruit to start your day.
Serving suggestions
Serve with strawberries and mint leaves
Top with blueberries and a scoop of double cream
Crumble honeycomb over the top
Sprinkle with shaved chocolate
Sprinkle with orange zest (as pictured in the recipe)