This recipe was born after I had some left over base mixture from the Chocolate Coconut and Cashew Cream Tart. From this, I rolled the excess mixture into delightful little bites for lunchboxes and snacks and the rest into the crunchy biscuits that you see here.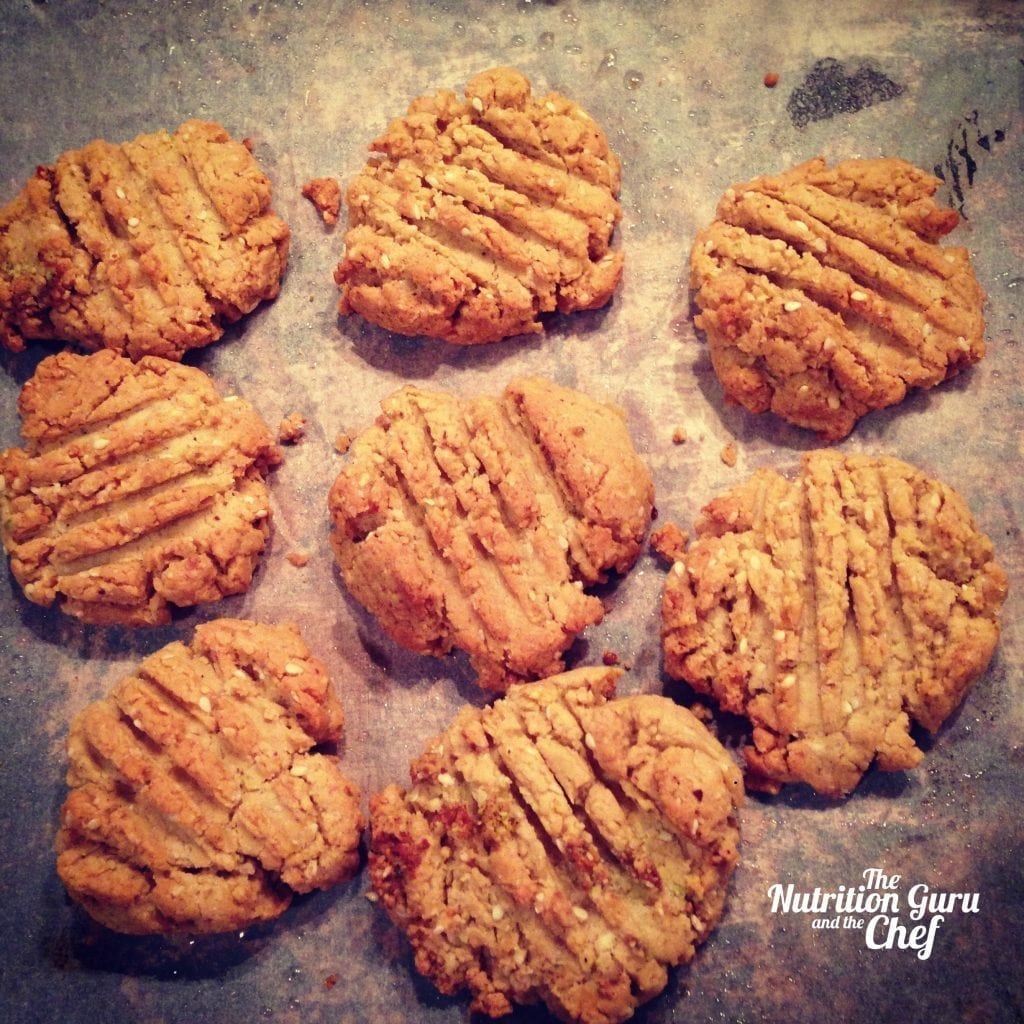 So, you can make a triple batch of this recipe here and make 3 different dishes!It's gluten free, dairy free and super simple to make. All you will need to wash up is a blender and a baking tray.
Nutrition
Leave the mixture with a slight 'chunk factor'. Your body has to then work harder to digest the nuts and seeds.
Sultanas contain fibre for a healthy digestive system.
Almonds are our heart's best friend. They are packed full of heart healthy monounsaturated fats which have proven to help lower our cholesterol and reduce blood pressure. They also contain vitamins, minerals and fibre. Vitamin E is particularly high in almonds, which is an important antioxidant to prevent cell damage, reduce inflammation and even enhance the immune system. The protein helps build bone and muscle, repair tissue and help to keep us full.
Sunflower kernels are also fabulous sources of monounsaturated and polyunsaturated fats, fibre and Vitamin E and have anti inflammatory effects. Like almonds, sunflower kernels are also high in protein. My favourite nutrient in the world, tryptophan is found in high levels in sunflower kernels. This amino acid can help to make us feel happy, as once it enters the body it is converted to the happy hormone serotonin. Perhaps this recipe should be called Happy Biscuits.
Ingredients
1/2 cup sunflower kernels (available from all supermarkets)
1/2 cup coconut sugar (available from health food stores, it is a low GI sugar) or brown sugar.
1 cup whole unsalted almonds
1/2 cup sesame seeds
1/2 cup sultanas, currents, cranberries or chopped dates
3 tablespoons butter or sunflower oil
Method
Grease and line a baking tray with non stick baking paper
Pre heat oven to 180 degrees Celsius (fan forced).
Throw everything in the blender except the dried fruit.
Blend until combines and mixture starts to come together.
The ingredients don't have to be broken down to form a paste, chunky pieces are fine.
Stir the dried fruit through the biscuit mixture.
Lay a large piece of baking paper down on the kitchen bench
Remove the biscuit mixture from the blender and place in the centre of the baking paper.
With the palms of your hands, spread the biscuit mixture out to half a centimetre thick. Try and keep as even as possible.
Take a cookie cutter or glass jar and cut out the biscuits.
Place biscuits on the lined baking tray with enough room surrounding each biscuit to allow for spreading
Bake for 15 minutes or until golden brown.
Allow to cool for 5 minutes then remove from tray and let sit on a wire rack until cool.
Store in an airtight container for up to a week. You can also freeze the biscuits.