Are you looking for something  nutritious and delicious? This Sweet Potato, Coconut  and Chai Loaf is a wonderful alternative to your normal every-day cake. You can simply omit or reduce the sugar, and you have a wonderful breakfast bread that toasts beautifully, or lunchbox snack.
This loaf packs a nutritious punch with the base being sweet potato and ground almonds (see recipe for nut-free alternatives). This means that the loaf contains fibre for a healthy digestive system and will fill you up quicker than your average piece of cake. Sweet Potato has a low GI, which provides a good source of slow release carbohydrate to give energy. Much more nutritious than your average bakes goods made on white flour.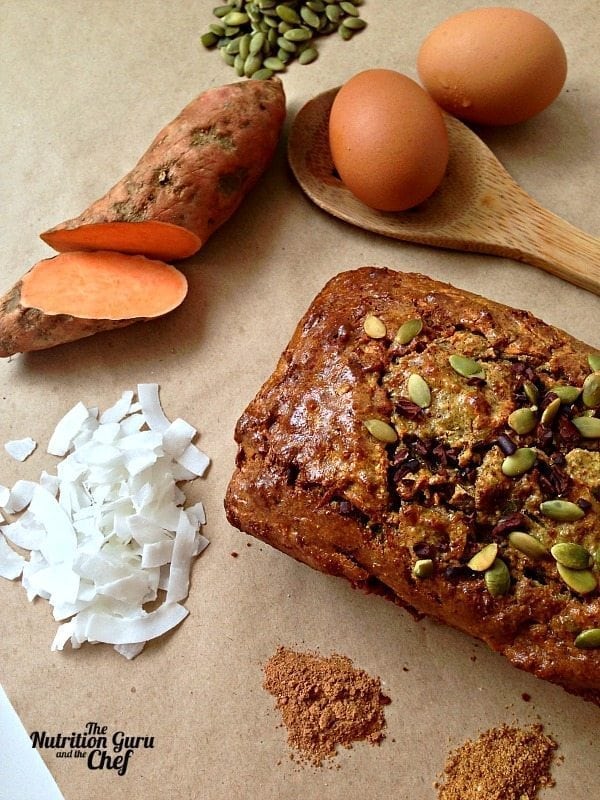 Ingredients
2 cups of almond meal or ground nuts (see method).
1/2 cup grated coconut, dessicated coconut, or coconut flakes
1 1/2 cups grated sweet potato (skin included)
4 eggs
1/4 cup olive oil (you can substitute with coconut oil if you wish but before you do, read my view on coconut oil here).
1/3 cup honey or maple syrup
2 tsp baking powder (choose gluten free baking powder if coeliac or highly sensitive to gluten)
1 tbsp vinegar or apple cider vinegar
1 tbsp chai powder OR 1/2 teaspoon cinnamon mixed with 1/2 teaspoon nutmeg
Method
1. Pre heat oven to 180 degrees Celsius, fan forced
2. For this recipe you can simply use almond meal (ground almonds), or finely grind your own whole almonds in a high speed blender.
3. Place the almond meal (or flour) in a large bowl
4. Add coconut
5. Grate the sweet potato and add to the bowl
6. In a separate bowl, whisk the eggs lightly
7. Add the oil to the eggs and whisk lightly to incorporate.
8. Add the rest of the ingredients into the bowl containing the oil and eggs and mix to combine
9. Add this wet mixture to the dry bowl of nut flour and coconut
10. Stir with a wooden spoon to thoroughly combine. If using spelt flour, wholemeal or gluten-free flour – be careful not to over work the mixture, or it will turn out rubbery
11. Pour mixture into a greased and lined loaf pan
12. Optional: you may wish to sprinkle with crushed nuts or seeds such as pumpkin or sesame to decorate
13. Bake for 30 minutes, until brown and a skewer inserted into the middle comes out clean.
14. Remove from oven and leave in tin to cool.
POST IT TO INSTAGRAM!