Ya'll have been asking for a banana bread recipe that is gluten free, but also nut free so that the kidlets can take it to school for snackies.
I put my thinking cap on and one day handed Baby Guru to The Chef, and started my mission in the kitchen.
I've created a few versions.
1. Gluten and nut free using sunflower seeds to replace flour. Available from all supermarkets. The loaf is almost grain free. This is a rich, dense cake full of  flavour
2. Wholemeal Banana Bread light in texture  (contains gluten)
If you need an egg free version, you could try replacing each egg with:
1 tbsp chia seeds soaked in 6 tbsp water for 15 minutes to form a thick gel.
Due to the nature of the oils in the sunflower seeds, the loaf may go rancid quickly if left at room temperature. Store in an airtight container, in the fridge, for up to 3 days. It freezes well.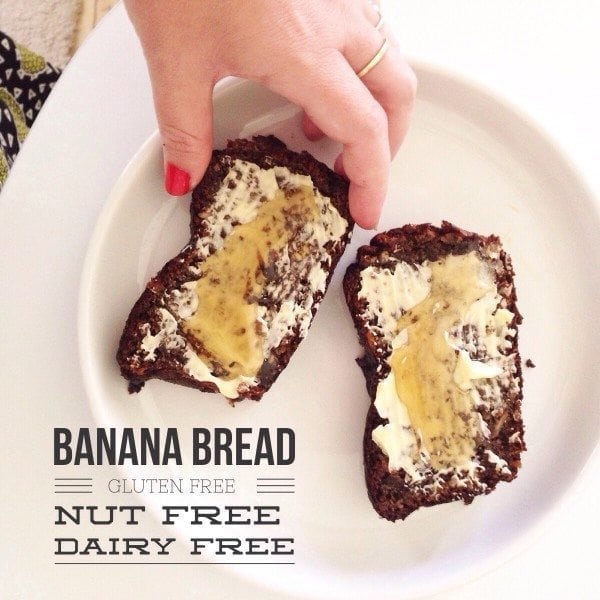 Banana Bread Gluten Free Nut Free
Recipe Type
:
Gluten Free Nut Free
Author:
Cook time:
Total time:
Ingredients
2 cups sunflower seeds
1/4 cup honey
2 eggs (or chia mixture as above)
3 bananas (the riper the better)
2 tsp baking powder (or gluten free baking powder for coeliacs)
1/4 cup olive, coconut or sunflower oil
1 cup whole linseeds (flaxseeds)
Instructions
Preheat oven to 180 degrees Celsius
Grease and line a loaf pan with grease proof paper
Grease and line a loaf
In a blender or thermomix, blend the sunflower seeds until they resemble fine bread crumbs
Pour this into a bowl and set aside
Add the honey, eggs, peeled bananas, baking powder and sunflower oil to the blender and blend
Tip the ground sunflower seeds back into the blender with the flaxseeds and the rest of the mixture
Blend for 1 minute until smooth
Pour batter into pan and place on middle shelf of oven
Bake for 45 minutes or until a skewer inserted into the centre comes out clean
Notes
If you are looking for an egg free alternative, see introduction above.
If you make this delicious recipe, post it to Instagram, we would LOVE to see your creation! Tag us using @thenutritionguruandthechef
SHARE IT TO YOUR FACEBOOK WALL OR PIN IT TO PINTEREST SO YOU DONT LOSE THE RECIPE!