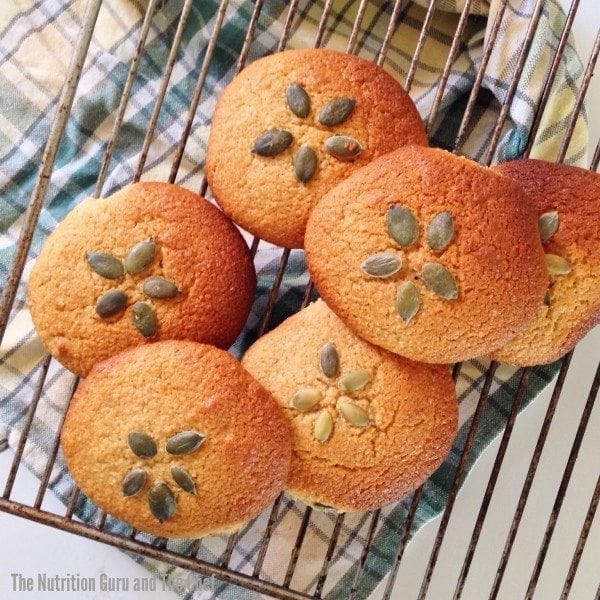 Lactation Cookies
Author:
Prep time:
Cook time:
Total time:
Serves:
Approximately 12 cookies
Ingredients
2 cups whole unsalted almonds
1 cup rolled oats
1/2 cup honey or maple syrup (optional)
1/2 cup sunflower, olive or coconut oil
1 egg
1 and 1/2 teaspoons baking powder (gluten free baking powder if coeliac)
1/4 cup linseeds (also called flaxseeds)
1/2 cup chopped dried dates, sultanas or goji berries (optional)
Instructions
Preheat oven to 180 degrees Celsius
Place the almonds in the blender and pulse until the almonds become fine like breadcrumbs. Don't have a blender? No problem. Simply buy almond meal rather than whole almonds, and mix the ingredients together in a bowl with a wooden spoon.
Add the oats, honey, oil, egg and baking powder and blend
Pour mixture into a large bowl and stir through the chopped dates and linseeds
Using a tablespoon, spoon portions of the mixture onto a large baking tray lined with grease-proof paper
Bake in the oven for 15 minutes
Turn the oven off and leave the cookies in the oven for a further 10 minutes
Remove from the oven and leave to cook on a wire rack
These cookies are simple to make, use only a few ingredients and best of all, they may just boost your milk supply! But even if you aren't a breastfeeding mother, this recipe is perfect for morning tea at work or kids snackies.
Best of all, the recipe is suitable for people with intolerances as it is gluten and dairy free (oats don't contain gluten and are tolerated well by most people with gluten intolerance. However, people with coeliacs disease need to avoid oats due to the potential for cross contamination in the manufacturing process).
The recipe contains oats, almonds, and healthy oils with a splash of sweetness with delicious dates. Normally lactation cookies contain brewers yeast which boosts milk supply, but from my experience as a new mum, when your supply drops suddenly and you need cookies, it's at a time when you are the most tired, exhausted and often sick. So I've developed a cookie which you can make from ingredients you likely already have in the pantry, and ingredients the whole family will enjoy!
It's important to mention, that lactation cookies aren't a definite 'fix it' for a drop in supply. A drop in supply can be caused by stress, exhaustion, certain medications and other reasons. Many factors influence how much breast milk we produce, and sometimes a cookie isn't the magic answer.
When supply does drop, it is recommended to keep breast feeding as often as possible. Breast milk works on 'supply and demand', meaning that if the baby is suckling at the breast, it will send the signals to keep producing the hormones to produce the milk.
So, when supply drops, it is helpful to take your shirt off, take baby's clothes off, and get some skin on skin contact. this releases oxytocin which can assist in producing milk. Try and get some rest, keep feeding and keep up the water (dehydration can cause a drop in supply).
It's also important to evaluate if you are eating enough. The body requires an extra 2000kj (or 500 calories) per day when breast feeding, and often a drop in calorie intake (stressed, too tired to cook, not hungry etc) can cause a drop in supply as the body just does not have the fuel to produce the milk.
HOW COOKIES MIGHT HELP
Oats and linseeds are lactogenic, meaning they help to produce milk. Almonds are packed full of energy and heart healthy monounsaturated oils which also help to produce milk. It is very important to keep up your energy (kilojoule) intake whilst breastfeeding, as without the kilojoules your body cannot produce the milk required. It's a bit like putting petrol in the car. You can't run it on empty and expect it to drive you around town without eventually spluttering to a stop. While you are breastfeeding, your body requires an extra 1900 kilojoules! For some women, that is 25% more than they would normally require, which highlights the importance of maintaining your food intake during this time.
The Nutrition Guru is a university qualified Nutritionist, keen cook, new and all round  myth buster. She cares passionately about advocating for holistic health and providing credible and up to date nutrition information in order for people to make their own educated decision about nutrition