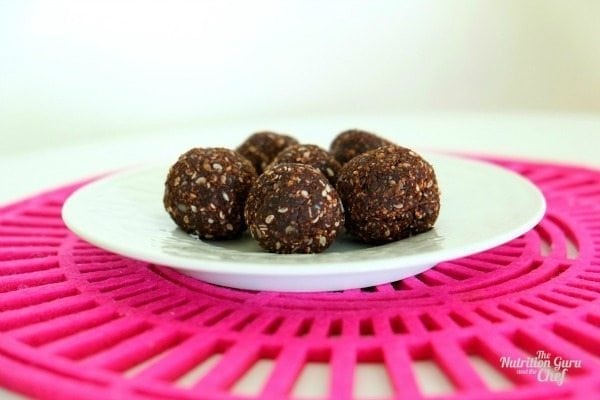 Bliss balls are a great lunch box snack because they are tasty, portable, and you can make a big batch to last the week.
Not only are they nutritious for kids, but also make a great snack for adults too.
This tasty recipe is nut-free, making it perfect for school lunch boxes. It's also lower in sugar than many online recipes (which are often loaded with large quantities of dates, dried fruit and contain very little else in the way of protein or good fats). The recipe balances out sweetness with nutritious sesame and sunflower seeds.
The trick when making these bliss balls for children is to keep the portion small. A teaspoon or two of the mixture is all you need to roll into a ball. This is enough to provide a hit of energy, fibre, vitamins and minerals without going overboard (remember they are  snack, not a meal).
Should you use cocoa or cacao for this recipe? It's up to you. You can read my article 'Is cacao better than cocoa?' here
This recipe also works really well pressed into a lined container to form a slice. Simply refrigerate, then slice into squares.
It also makes the perfect breast feeding snack!
Nut-Free Bliss Balls
Author:
Ingredients
1/2 cup dried pitted dates
1/2 cup water for soaking
2 tablespoons coconut oil
1/2 cup sesame seeds
1/2 cup sunflower seeds
1/4 cup cocoa
1/4 cup desiccated coconut
2 tablespoons water (extra)
Instructions
Place the dates in a small bowl and cover with 1/2 cup water.
Soak for 30 mins to soften
Drain water from dates and place the dates and coconut oil into a high speed blender.
Blend until smooth. You may need to stop the blender and stir, before blending again (remember to turn power off).
Add the sesame seeds and sunflower seeds
Blend until broken down to resemble bread crumbs. It's ok if there is larger chunks through the mixture
Add the cocoa, 2 tablespoons of water and coconut
Blend until mixture comes together
You may need to stop and scrape down the sides of the blender
After mixture comes together, spoon some mixture into the palm of your hand and work the mixture into a ball using the palms of both hands
If mixture is too dry, add a tablespoon of water (not oil) until you get the right consistency
If mixture is to wet, add a tablespoon of coconut flour or dessicated coconut (or any of the ground seeds) until you get the right consistency
Place in the fridge to chill and harden
Store in an airtight container in the fridge for up to a week