Recipe by: The Chef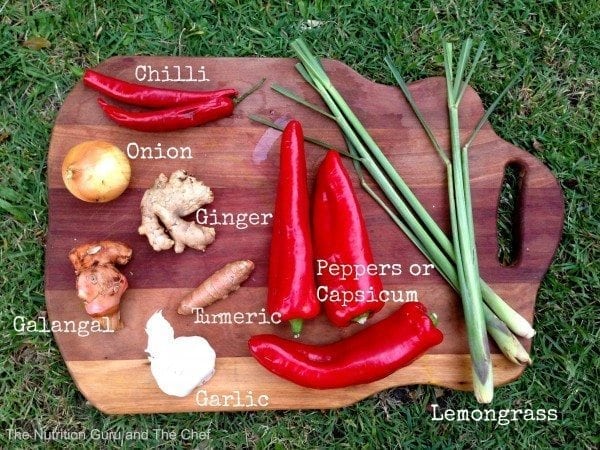 I love curries, and the Nutrition Guru tells me the ingredients I often use to make them are very good for you. I think people often believe that cooking with a curry means that a dish will be hot and burn your mouth, which obviously not everyone enjoys. Though that isn't the case. A curry paste can be made full of flavour, without the heat. All you have to do is leave the chilli's out of the ingredients list!
We often will cook a curry if we have guests and simply make it without the chilli's so that everyone can enjoy it regardless of their chill preference. For the people who enjoy spicy heat, I simply chop up red chilli's and serve in a bowl in the centre of the table for guests to add if they wish.
Understandable, many people believe that making your own curry paste requires 20 different ingredients but that's not necessary. Don't have access to lemongrass but have all the other ingredients? Then leave the lemongrass out. Don't have any turmeric but have everything else? Leave the turmeric out. It's that simple. All of the ingredients for this recipe, are available from any major supermarket, and/or asian supermarket.
If you can't find the ingredients fresh, you can get handy jars of minced garlic and ginger, as well as tubes of lemongrass and chopped chilli. If you can't find fresh turmeric have a look in the section where the packet dried herbs are, and you will usually find a packet of 'turmeric powder'. Galangal and turmeric are the only ingredients that are slightly less common and if you can't find these, just leave them out.
A curry paste is perfect for a gift, especially for males who likes to cook.
Recipe
Ingredients
You will need the ingredients pictured above in the quantities/ratio's pictured, although the quantity is just a guide only and don't feel tied down to getting it exactly right.
1 tablespoon curry powder
NOTE: Use only one chilli the first time you make it to avoid making the paste too hot. Adjust accordingly next time you make the recipe.
Peel the ginger, garlic, turmeric, galangal, and onion.
Remove the seeds from the peppers or capsicums and remove the seeds from the chilli's unless you wish for a super duper hot curry.
Throw it all in a blender and blend until the ingredients from a paste.
If you have a mortar and pestle simply pound.
Pour into an airtight jar and top with a small drizzle of olive oil to keep moist. refrigerate or use immediately.
How to Use Your Curry Paste
Use in any recipe requiring curry paste including the three recipes below
Coat prawns, fish, chicken, lamb or pork in the paste with a small amount of olive oil and throw on the BBQ.
Coat any meat with a small amount of the paste and rub in with your fingers. Let marinade for 20 mins, then use in your regular stir fry.
Recipe 1  – Super Easy Curry
To serve 4
To make the best curry in the world, take approximately 1 tablespoon of paste and add to a hot pan coated with a small amount of olive oil.
Let the paste fry for 1 minute to release the aromas, continually stirring to prevent burning.
Add 400 grams diced meat of your choice to the pan, continuing to stir.
Let the meat brown on the outside.
Once brown, add a splash of coconut milk or cream (coconut milk is lower in fat and kilojoules and will make a thinner sauce, coconut cream is higher in fat and kilojoules and will create a thicker sauce).
Stir quickly to prevent burning and lift any ingredients that may have caramelised to the bottom of the pan.
Add a further 1 cup of coconut cream/milk.
Taste to determine if the sauce is too spicy and if it is, simply add water or more coconut milk/cream.
Add chopped carrots, broccoli, potato chopped into small pieces if you wish.
Reduce the heat to low and cook until meat is cooked through.
Add chopped peas or frozen/fresh spinach once the meat is done, and cook for 1 minute.
Add approximately 1 teaspoon fish sauce 1tsp lime juice and 1tsp sugar. Start with these quantities, taste the mixture and add more in these ratio's if you determine it needs a bit more ooomph.
Tip – If you taste it and it needs more:  
Saltiness – add more fish sauce.
Sweetness – add more sugar
Sourness – add more lime juice.
Recipe 2
Pork, Pineapple and Bamboo Shoot Curry Recipe
Click the photo below to access this delicious recipe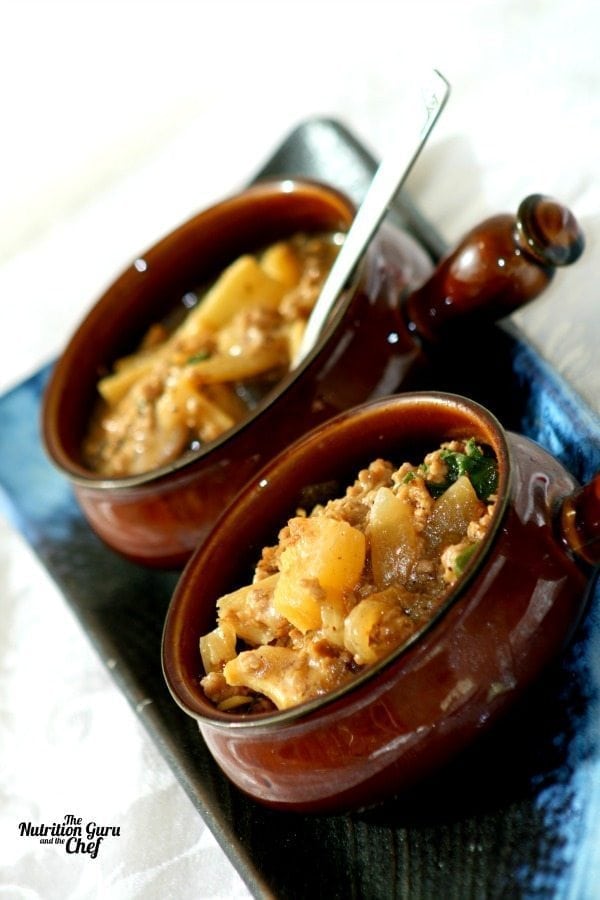 Recipe 3
Click the image below to be taken to our recipe for Thai Chicken Balls
Until next time…The Chef.